2021 vs. 2022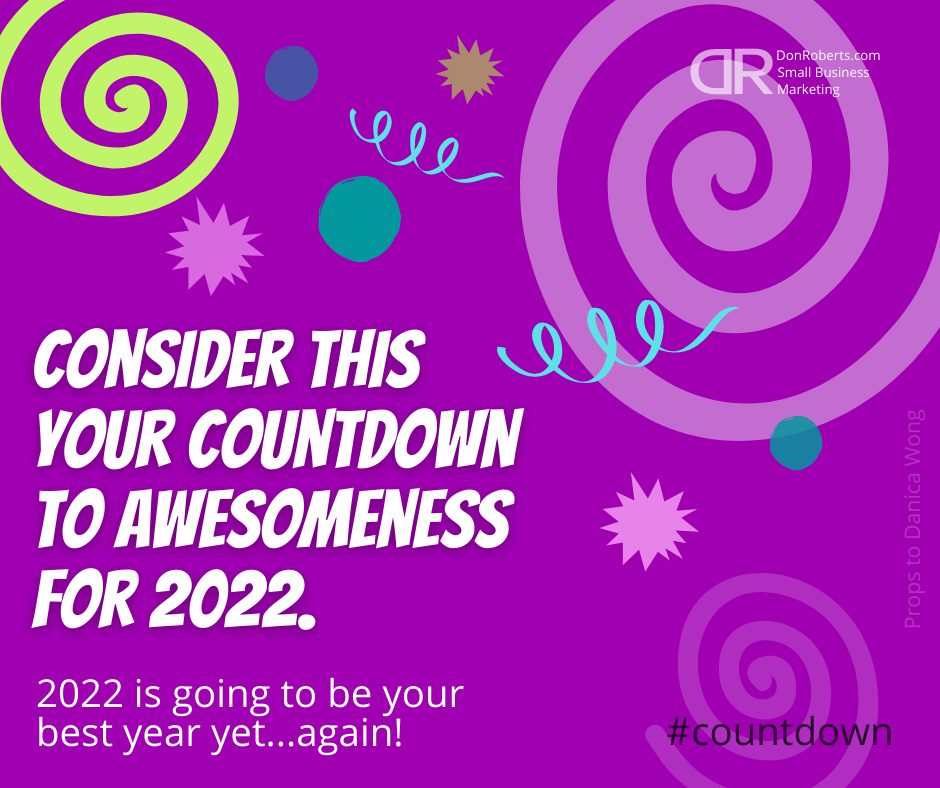 2021 was another challenging year for many business owners and their customers.
While some states opened-up and made it easier for businesses to serve customers, other states chose to invoke strict mandates and punitive measures.
Whether you supported tougher measures or not, we should be able to agree that for a good part of the nation many business owners struggled in 2021. Some even chose (or had to) close for good.
Since 2021 is just around the corner, what are your doing to position your business for success in 2022?
What Will Your Business Success Look Like In 2022?
Having a positive mindset is always a great start. But, what areas of your business will you be specifically focusing on?
Areas Of Focus
Consider one or more of the following for your small business marketing efforts in 2022:
Online Presence – What can you do to make your business more findable online?
Conversion Rate Optimization – What improvements can you make to your business website to make it convert better for you (e.g., more calls, more contact form submissions, more purchases, etc.)?
Social Media Marketing – What are helpful things you can do in the social media arena to increase awareness and mindshare?
Customer Follow-up – What can you do to follow-up with previous customers to get them to re-engage?
Social-Proof – What can you do to get more customer reviews from your customers?
Video Marketing – Do you have one or more videos about your business? If so, how are you marketing them? If not, why not?
Paid Advertising – What can you do in the area of paid advertising (Google Ads, Microsoft Advertising, Facebook Ads, etc.)?
The good news is that you don't have to take on a new job trying to figure-out how to do each one – take time out of your already busy day to implement each one. Any one of the above items can help lead you to more customers and increased sales. Make it simple for yourself. Pick one. Implement it. Monitor it. Improve it. Pick another one, and do the same.
What To Do
For all practical purposes, 2022 is already here. Devote some time to deciding what you want 2022 to look like for your business. Not quite getting to it or simply choosing to do nothing is a recipe for the same results as in 2021 – or worse. Decide on which item to focus on and boldly take steps to implement it. Stay focused on it. Make it work for you.
2022 is going to be your best year yet – again!
Best, Don